| operative network | personal site: creative - relativity
written in the language of sacrifice
poetry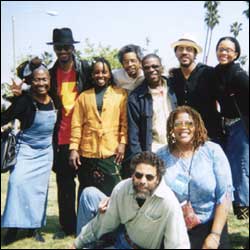 I started writing poetry in junior high. I didn't call it that, at the time, an aspiring young emcee with a group called (I am so embarrased to even type this) TNT & Dynamite (I was TNT). Still, I crafted metaphors and similes beyond the braggadocio and bluster of the genre at the time.
In college, I started writing actual poetry -- villanelles were a favorite, as was blank verse, but I never had much love for sonnets. I've sworn to complete a sestina before I croak, but it's a very challenging hill and I've made no real hurry to climb it. Sorry, I digress.
Anyway, I liked the kind of workshop environment of my college classes (under David St. John, whose wife was more disturbed by my fiction work and shunted me onto the poetry track in my Creative Writing major). A few months after my matriculation, I stumbled on the World Stage's Wednesday night Anansi Writers Workshop in LA's Leimert Park, and everything changed.
I'm not ashamed to say I've very rarely been intellectually challenged in life. Until I was 18, I was the smartest person I'd ever met, always leaps and bounds ahead of everybody around me in Memphis, in Milwaukee, in Tacoma. My rites of passage gave me the first glimpse of equivalent intellects, and at the Stage, I was able to sit in the presence of people who were actually better than me. There were some growing pains, but it has become my "church," my artistic venue of choice, one of my favorite places in the world.
So thus guided by Tchikonsase Aje and Peter J. Harris, by Jenoyne Adams and Michael Datcher, by Vanessa Williams and Kamau Daaood, V. Kali and Imani Tolliver, I have sought higher levels of craft, now published in various anthologies and publications, always working towards the ultimate artistic expression. I hope you get something from my work, and I appreciate your interest in it.