INSPIRATION HOUSE:
(Spoken Word CD, 13 poems, 4 interludes)
| OUT OF PRINT |
Hannibal Tabu appeared on KPFK-FM's popular spoken word showcase Inspiration House ("Voice Music for Whole Living") on March 18, 2002. Using amazing digital mastering technology, the entire experience has been captured for you. Hear Hannibal's mellifluous voice reading his original poetry over jazz and R&B classics. A once-in-a-lifetime event, captured forever.

To download MP3s, please click the link, click on MP3, and save the link of the appropriate file to your hard drive.
Track Listing:
... I know you got soul (intro)
break fast
linguistics
principessa
i am hip hop
mr. sandman (full text)
peter j. harris interlude 1
linger (mp3)
dedication (mp3)
when you see an ex at a poetry reading
peter j. harris interlude 2
grateful (mp3)
scent of a woman
serious (mp3)
peter j. harris interlude 3
sweet love, parts 1 & 2 (full text)
shell game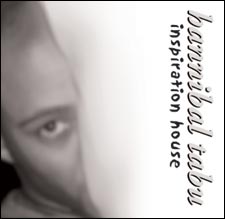 Click here to read more of Hannibal's poetry.