BORN BENEATH AN ANGRY STAR:
(Chapbook, 36 pages of original poetry written by Hannibal Tabu)
| $7 (shipping included) |
Seventeen poems, illuminating a rage that could ignite planets. In this book, Hannibal presents poems old and new, all from the harsher side of his personality. A stark contrast to the work from Flight Manual, it still shows a wide range of emotions that can fall under the aegis of discord. Topics range from lost love to race relations, classism to hip hop and more.
Contents:
foreword
finality
chickens (full text)
the most hated people in the world
heartless city (in two parts)
legacy
hatred
1999 (full text)
don't move, don't think
easy
clever
a girl named anger
bitter ex-girlfriend poem #1453: last night
turbulence
365-12-52
i am hip hop
water
mr. sandman (full text)
about the author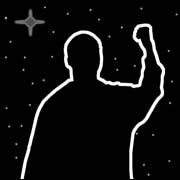 "Hannibal Tabu writes about complicated political issues with such charged lyricism that you will remember these words -- and these issues -- long after you put this book down."
-- Michael Datcher,
Author of
RAISING FENCES

"Hannibal's work is consistently humble and thorough. He speaks as he sees with no ego interference. Humility, however, should never be confused with a lack of confidence. Hannibal acknowledges anger and beauty in equal measures and respects compassion's complexity. Not a poet offering a shot of redemption, Tabu's poems excavate the yin and yang of humanity in stark and uncompromising strokes."
-- Jason Luckett,
arrogance
procrastination
fear humility

"Born Beneath An Angry Star is very good reading. if Stephen King were a poet, he would be like [Hannibal Tabu], dark and hard to look at, but with a sense of humor."
-- Brig Feltus
Singer/Songwriter
Click here to read more of Hannibal's poetry.