The file folders pertaining to the members of DangerWatch and the Union of the Snake are among the most carefully guarded secrets in the world. Assassins, spies, and some of the world's finest soldiers, to the world at large, much about them is a mystery.

Funny that these files would just be left lying around like this ...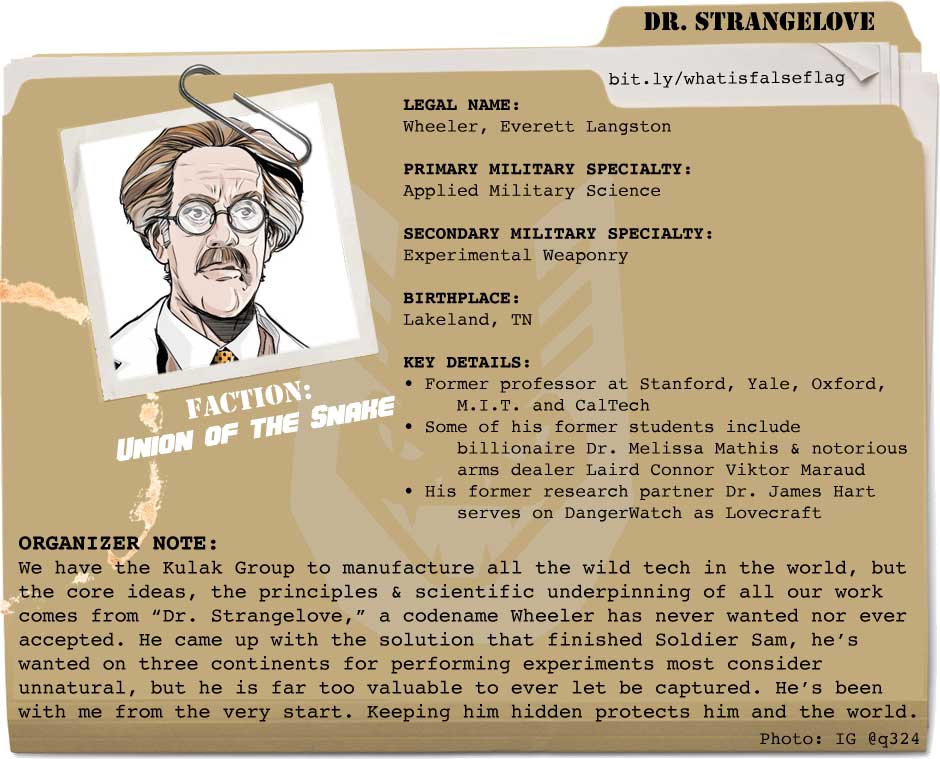 LEGAL NAME:
Wheeler, Everett Langston

PRIMARY MILITARY SPECIALTY:
Applied Military Science

SECONDARY MILITARY SPECIALTY:
Experimental Weaponry

BIRTHPLACE:
Lakeland, TN

KEY DETAILS:
• Former professor at Stanford, Yale, Oxford, M.I.T. and CalTech
• Former students include billionaire Dr. Melissa Mathis & notorious arms dealer Laird Connor Viktor Maraud
• His former research partner Dr. James Hart serves wih DangerWatch as Lovecraft

ORGANIZER NOTE:
We have the Kulak Group to manufacture all the wild tech in the world, but the core ideas, the principles & scientific underpinning of all our work comes from "Dr. Strangelove," a codename Wheeler has never wanted nor ever accepted. He came up with the solution that finished Soldier Sam, he's wanted on three continents for performing experiments most consider unnatural, but he is far too valuable to ever let be captured. He's been with me from the very start. Keeping him hidden protects him and the world.
False Flag, Created by Hannibal Tabu in conjunction with Demar Douglas, Quinn McGowan and Damion Gonzales.
Wanna be first to find out what's up with False Flag? Sign up for our newsletter!