The file folders pertaining to the members of DangerWatch and the Union of the Snake are among the most carefully guarded secrets in the world. Assassins, spies, and some of the world's finest soldiers, to the world at large, much about them is a mystery.

Funny that these files would just be left lying around like this ...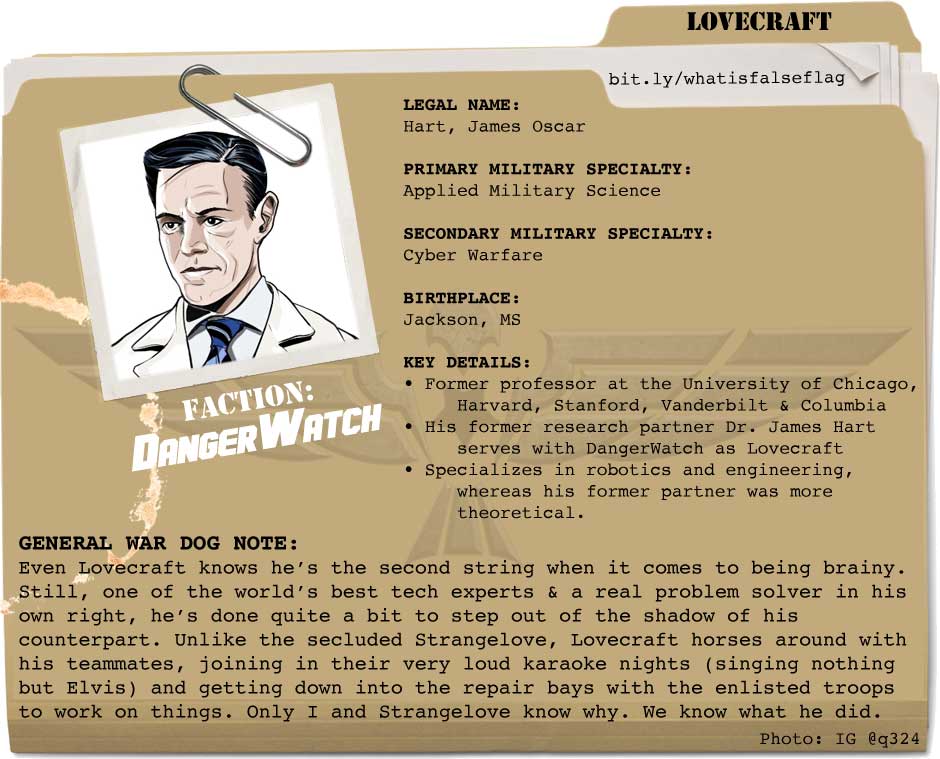 LEGAL NAME:
Hart, James Oscar

PRIMARY MILITARY SPECIALTY:
Applied Military Science

SECONDARY MILITARY SPECIALTY:
Cyber Warfare

BIRTHPLACE:
Jackson, MS

KEY DETAILS:
• Former professor at the University of Chicago, Harvard, Stanford, Vanderbilt & Columbia
• His former research partner Dr. James Hart serves with DangerWatch as Lovecraft
• Specializes in robotics and engineering, whereas his former partner was more theoretical

GENERAL WAR DOG NOTE:
Even Lovecraft knows he's the second string when it comes to being brainy. Still, one of the world's best tech experts & a real problem solver in his own right, he's done quite a bit to step out of the shadow of his counterpart. Unlike the secluded Strangelove, Lovecraft horses around with his teammates, joining in their very loud karaoke nights (singing nothing but Elvis) and getting down into the repair bays with the enlisted troops to work on things. Only I and Strangelove know why. We know what he did.
False Flag, Created by Hannibal Tabu in conjunction with Demar Douglas, Quinn McGowan and Damion Gonzales.
Wanna be first to find out what's up with False Flag? Sign up for our newsletter!