The file folders pertaining to the members of DangerWatch and the Union of the Snake are among the most carefully guarded secrets in the world. Assassins, spies, and some of the world's finest soldiers, to the world at large, much about them is a mystery.

Funny that these files would just be left lying around like this ...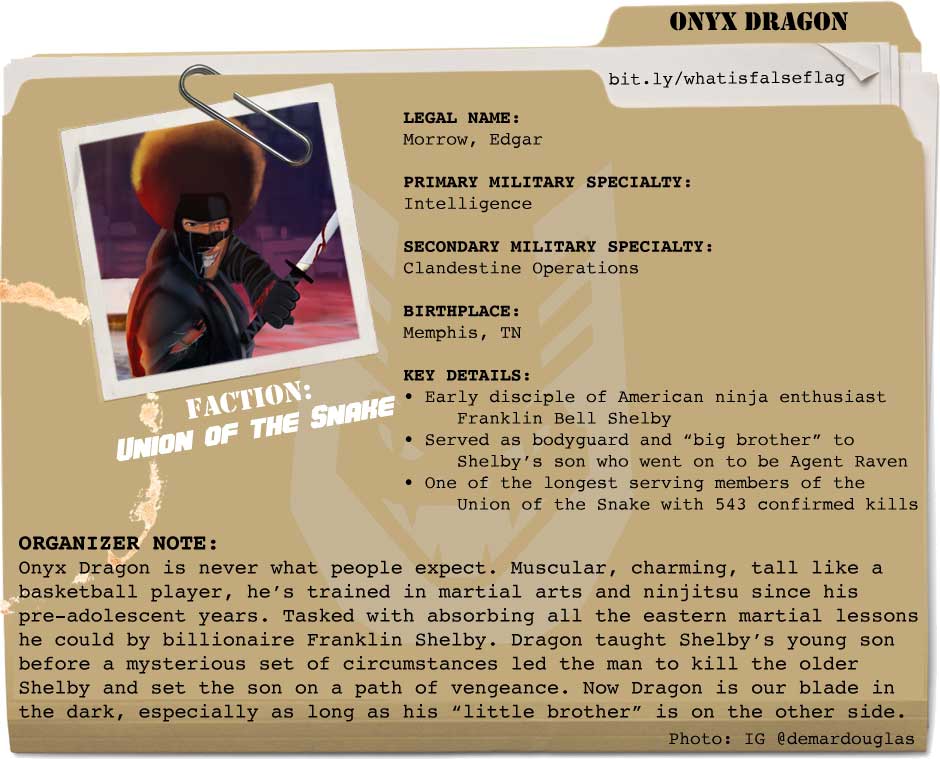 LEGAL NAME:
Morrow, Edgar



PRIMARY MILITARY SPECIALTY:
Intelligence

SECONDARY MILITARY SPECIALTY:
Clandestine Operations

BIRTHPLACE:
Memphis, TN

KEY DETAILS:
• Early disciple of American ninja enthusiast Franklin Bell Shelby
• Served as bodyguard and "big brother" to Shelby's son who went on to be Agent Raven
• One of the longest serving members of the Union of the Snake with 543 confirmed kills

ORGANIZER NOTE:
Onyx Dragon is never what people expect. Muscular, charming, tall like a basketball player, he's trained in martial arts and ninjitsu since his pre-adolescent years. Tasked with absorbing all the eastern martial lessons he could by billionaire Franklin Shelby. Dragon taught Shelby's young son before a mysterious set of circumstances led the man to kill the older Shelby and set the son on a path of vengeance. Now Dragon is our blade in the dark, especially as long as his "little brother" is on the other side.
False Flag, Created by Hannibal Tabu in conjunction with Demar Douglas, Quinn McGowan and Damion Gonzales.
Wanna be first to find out what's up with False Flag? Sign up for our newsletter!