The file folders pertaining to the members of DangerWatch and the Union of the Snake are among the most carefully guarded secrets in the world. Assassins, spies, and some of the world's finest soldiers, to the world at large, much about them is a mystery.

Funny that these files would just be left lying around like this ...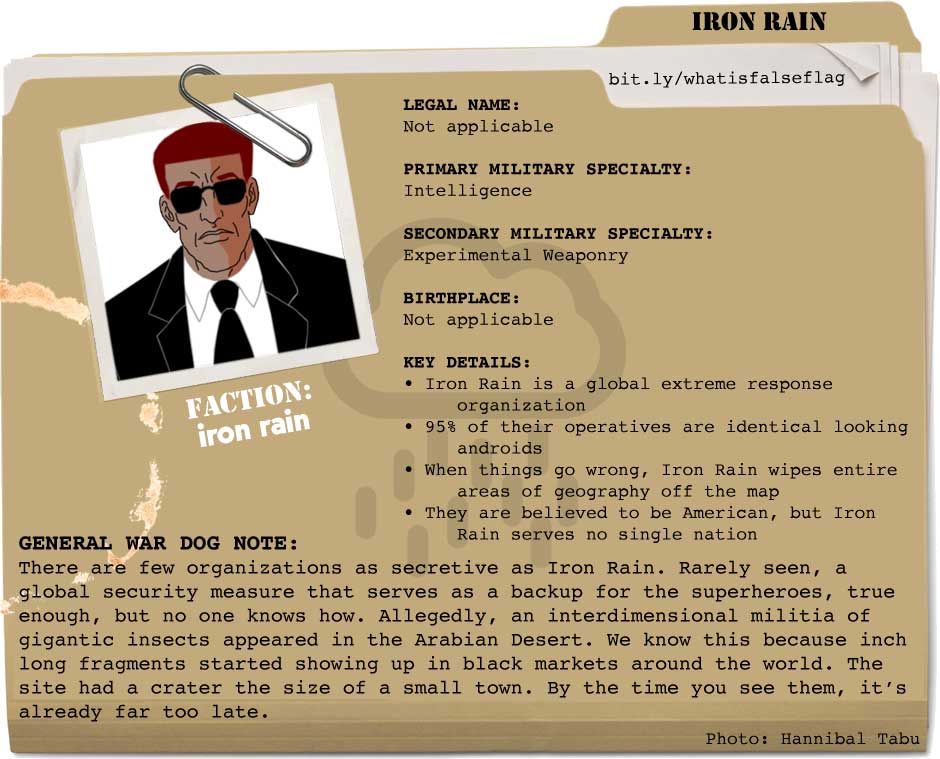 LEGAL NAME:
Not applicable

PRIMARY MILITARY SPECIALTY:
Intelligence

SECONDARY MILITARY SPECIALTY:
Experimental Weaponry

BIRTHPLACE:
Not applicable

KEY DETAILS:
• Iron Rain is a global extreme response organization
• 95% of their operatives are identical looking androids
• When things go wrong, Iron Rain wipes entire areas of geography off the map
• They are believed to be American, but Iron Rain serves no single nation

GENERAL WAR DOG NOTE:
There are few organizations as secretive as Iron Rain. They are a global security measure that serves as a backup for the superheroes, true enough, but no one knows how. Allegedly, an interdimensional militia of gigantic insects appeared in the Arabian Desert. We know this because inch long fragments started showing up in black markets around the world. The site had a crater the size of a small town. By the time you see then, it's already far too late.
False Flag, Created by Hannibal Tabu in conjunction with Demar Douglas, Quinn McGowan and Damion Gonzales.
Wanna be first to find out what's up with False Flag? Sign up for our newsletter!