| operative network | personal site: creative - relativity
music: everybody show ya love ...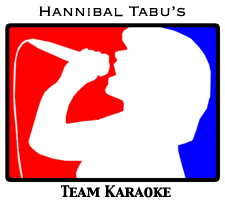 UPDATE Q2 2009: Amidst much constertation and requests that it be some other way, I have officially retired from karaoke hosting as of July 2009.

Why? Was it because I was tired of drunk people asking me things? (no) Was it because I was tired of driving to the south bay? (no) Was it because I hated the tuneless warbling of easily 45 percent of the people who signed up? (nope).

My wife's having a baby (as of this writing in December 2009, she's due any day now) and needs me at home with the family. Simple as that. I still love rocking shows and singing and hosting and all of that, and there may be room for me to do limited special engagements and private parties after Q3 2010, but I make no promises.

Yeah, I miss it ... but a brother has to have priorities, dig? Handle yours.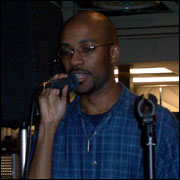 My first karaoke experience was with my then co-workers Bronwyn Jones (who now works for Apple Computers) and Eric Stephenson (who's the number two guy at Image Comics as of this writing in late 2004). They took me to an English pub called Britannia in Santa Monica, and we acted a fool, and it was great.
Songs Hannibal Loves Singing
"Raspberry Beret" by Prince
"The Scientist" by Coldplay
"Sumpthin' Sumpthin'" by Maxwell
"The Coffee Song" by Frank Sinatra
"Never Stop" by The Brand New Heavies
"Stray Cat Strut" by The Stray Cats
"Easy" by The Commodores
"Look What You've Done" by Jet
"Purple Rain" by Prince
"Wonderwall" by Oasis
"Please Don't Go" by Boyz 2 Men
"Smile Like You Mean It" by The Killers
"Never Too Much" by
Luther Vandross
You know what? That's not right. My first karaoke experience was actually some months before that. My then-wife and the only friend of hers I promised to never sleep with took me to the on-again-off-again karaoke show at Hollywood Park (where they charged a dollar a song, something I now find abhorrent). The first song I sang was "No Diggity" by Blackstreet, and it went considerably better than I thought it should have, and I was kind of interested. So by the time I was at eHobbies (the first version, not the anemic thing that's up now) with Eric and Bronwyn, I was instantly excited. I remember they wanted to leave way before I did. I was hooked very early on.
I dived headlong into almost nightly karaoke clubbing during late 2002, on the downward slope of my marriage. By the end of 2003 I was happily divorced and had shifted from just being a singer to being a karaoke host. Nigel Morier and Pete Chinelli at Hollywood Karaoke gave me my first hosting opportunity (also being really swell guys to me all around, in so many ways), on the recommendation of my really good friend and co-worker Dana Walker. She's since hooked me up with Tony DeFazio, who owns Starlight Karaoke and is the sponsor of my Friday show.
I sing three types of music: alternative rock (such as Creed, Coldplay and Morrissey), R&B (from artists such as Maxwell, Blackstreet or Barry White) and "eighties music" (singing songs from George Michael, Spandau Ballet, Prince, et cetera). There's a few curveball songs I'll sing just to screw with people -- "Adia" by Sarah McLachlan for example, or "Vision of Love" as a duet with my dawg Dana -- but other than songs done "in character" ("Melt With You" has a whimsical English accent when I sing it), but for the most part I guess I stick to my shtick, as it were.
I had the idea for the "team karaoke" logo a million years ago, which was originally gonna be for a friend's karaoke company before he blew all the money and it went t*ts up. So it's been sitting on my PowerBook, and I've been looking for a place to use it. Besides, when everybody chimes in on "Easy" or "Sweet Caroline" or "Come On Eileen," it's like a team effort, and if everybody's having fun that makes it a better experience all around. I used it for a show that was all my own that had really bad planning put into it, and it'd be my modus operandi with any future shows (unless business logic dictated otherwise).